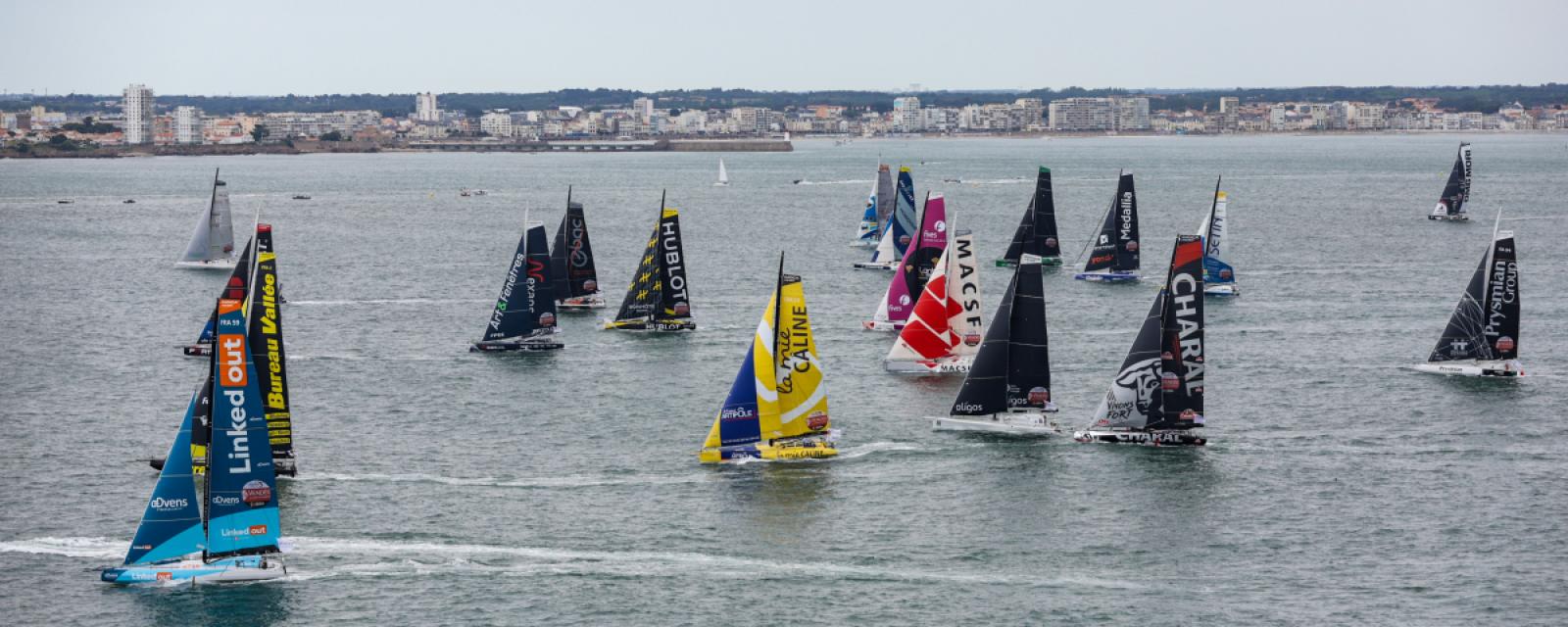 This new summer race north to Arctic waters is now managed by the Vendée region and complements their famous solo non-stop race around the world and is the first available qualifying race for competitors aspiring to compete in the 2024 edition of the Vendée Globe. After a week of festivities, more than 40,000 visitors taking to the race pontoons this week to see the 25 IMOCAs and their skippers, the race started cleanly and on time this evening.  
After a short period of unstable winds just after the start gun, within an hour the top group fast foiling IMOCAs were reaching at speeds of more than 27 knots spearing north and west in the early stages a passage which will take them west of Ireland and then on a quick northwards reach towards the eastern tip of Iceland which they are forecast to reach next Friday.  
Louis Burton, the Saint Malo based skipper who finished third in the recent Vendée Globe, was quickest off the start line and early evening was leading, just ahead of Charlie Dalin, winner of last month's Guyader-Bermudes 1000 race. Burton is racing his new Bureau Vallée, the radical, full scow-bowed Sam Manuard design which is very much a blueprint for the next generation of IMOCA yachts.  
The first weather obstacle will be a ridge of high pressure producing a NE-SW zone of light winds which the leading skippers need to choose where to cross. The option going further west may require more miles to be sailed but the reward would be a more solid, consistent SW'ly wind for the long, fast reach towards Iceland. The non-foiling boats of which there are 11 are more likely to stay further east, close to the Irish coast.  
"This is a bit like the Vendée Globe but in summer." Smiled Manuel Cousin (Sétin Group) on the dock in Port Olona where the atmosphere was very reminiscent of the usual November dock out other than the skippers' emotions were nothing like as intense and there was warm sunshine.  
"In the first 24 hours we will have manageable conditions. We should be going fast tonight and tonight with a priori few maneuvers, perhaps a change of sail. It's good not to attack hard. Difficult moments, we will have them later in this race, we know that" said Louis Duc (Fives - Lantana Environnement). 
Britain's Pip Hare was in 11th this evening making over 20kts on her new foiling Medallia. As she docked out Hare said, "I think really this race is about analysing and improving all my own techniques as a sailor and I'm watching the other boats of the similar generation and measuring my performance against them but I think this is a great experience for me to learn and of course a race to finish and make my first qualification step for the next Vendee Globe." 
 
Kiwi Conrad Colman made a good start on his so far sponsor-less non foiler Imagine,  
" I'm just happy to be on the race, happy to go around Iceland. That's completely new for me and for everybody else. And as you know for somebody from the very south of the world New Zealand to go all away to the north of the planet it's pretty exciting.  
The main goal is to come back here in two years to be qualified and selected for the Vendee globe and take the big start. And also have fun, keep the boat and myself in one piece. If I can make it on podium with the other daggerboard boats I will be very happy."