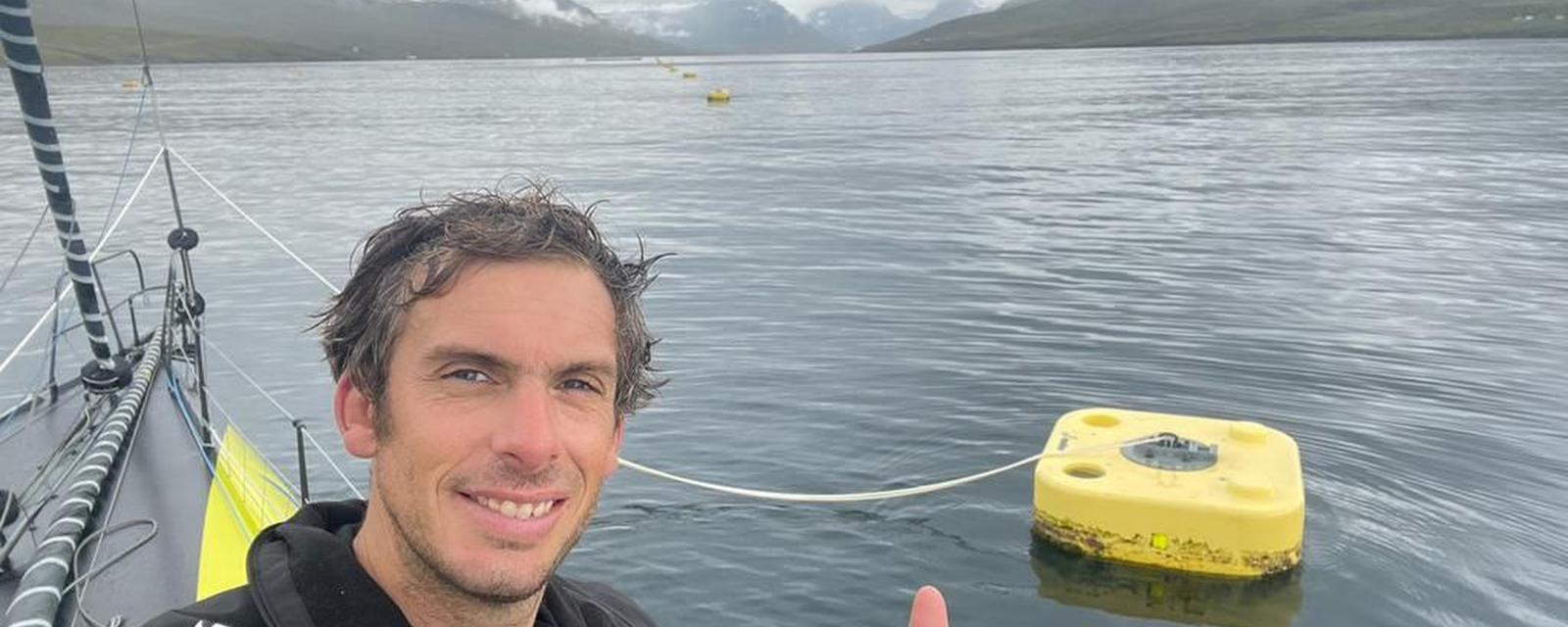 With the low approaching from the SW it has been the solo skippers in the second half of the fleet which have taken the worst of the strong, gusty and very unsettled winds.
Race direction have been monitoring the evolution of the stormy system, not least staying in regular contact with the skippers. This morning 19th placed Arnaud Boissières (La Mie Caline) over 220 miles south of the gate was reporting 40kts gusting to over 55kts, in 21st place Kiwi Conrad Colman (Imagine) much the same.
First through the Iceland virtual gate was Charlie Dalin (APIVIA) at 00:23hrs UTC (02:23hrs HF). Second through 3 hours 43 minutes and 34 seconds later was Jérémie Beyou (Charal) with Thomas Ruyant (LinkedOut) third through 7 hours and 10 minutes behind the Dalin. According to the race tracker Dalin and Ruyant took shelter in a nearby fjord while Charal's Beyou appears to be maintaining a holding pattern offshore. Next through should be Benjamin Ferré, the 31 year old who led the early stages of this race, sailing  non-foiling daggerboard boat.
No official decision has been announced yet how and when a restart will happen but race meteorologist Christian Dumard briefed this morning that he expects the low to fill and move off by Saturday night or Sunday morning.
"The seas could be 3 to 4 meters in the troughs and the wind could rise to 50 knots during Saturday depending on their progress", assures Christian Dumard. "The depression will fill at the end of the night and move off".
Adviser Yoann Richomme emphasized today: "These are solid boats that have been tested. At the start they would not have kept up such a pace if they were not perfectly reliable".
Briton Pip Hare in 16th this afternoon still had 195 miles to climb northwards to the gate on her Medallia. She was objective about the decision, admitting "You know, it's so hard. I sent a message saying to race management because I understand how difficult is because no one's going to be happy. Every single person has made their tactical decisions. We're playing a long game. We've all got different objectives in this race. Most of all we want to stay safe. We want to qualify and be racing. There's been a lot of energy put into getting where we are now. I've only got behind the fleet now because it always takes me a while to hit my stride. The last thing I want to do is stop."
At lunchtime Friday she was only just getting into what she felt was the worst of it,
" I think now I'm in the proper bad sector of the low pressure. It's really hard to work out, none of the forecasts are saying what's actually going on in the middle of the low. I think the middle of it is quite a bit bigger and further south.  But I think this means I'm going to get a kicking this afternoon. I think I'm now coming into that westerly flow and I am expecting for that to build soon and come in a Northwest direction. I might be able to stay ahead of it but I'm bracing myself for 40 knots this afternoon."
The spectacular recovery of Switzerland's young skipper Alan Roura continues. Snared in the second light airs zone of the course, he was last on the ranking at one point but his choice to punch out to the west has paid a continued dividend and he is up to ninth on the VPLP design which was the most recent Hugo Boss, six miles or so behind Benjamin Dutreux (Guyot Environnement-Water Family) who is sailing the previous Hugo Boss which took second in the 2016-17 Vendée Globe in the hands of Alex Thomson
Manuel Cousin (Group Setin) abandons

Les Sables d'Olonne based French skipper Manuel Cousin confirmed his retirement from the Vendée Arctique Les Sables d'Olonne this afternoon Friday, June 17, a few hours after altering course to head southwards. He is the second skipper of the 24 who started last Sunday from Les Sables d'Olonne.
Cousin's decision is one based on his safety and that of his boat and is one he made in two stages. The 55 year old adopted Vendéen - who is a former motor industry executive who turned to full time ocean racing – had turned south on a more cautious route heading towards the south-east to get away from the center of the low pressure.
Then the neutralization of the race added to his concerns. "I did some routings all night and it appeared that, if I were heading for the Iceland gate again, as the depression is very big, I would have had to sail all the way upwind and would have arrived there very late. I'm sorry to turn around, it's my first retirement since I started out in the IMOCA since 2017, but I didn't want to put my boat at risk".