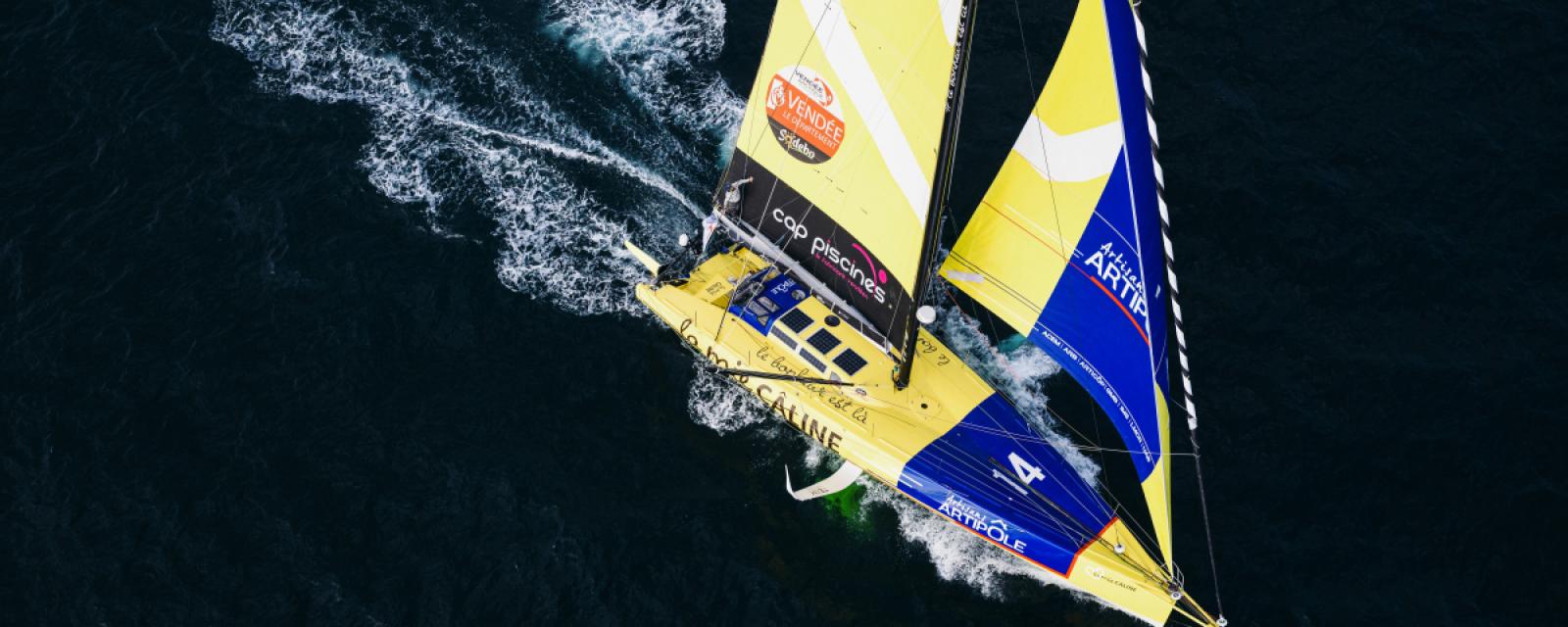 As the third competitor to stop racing, Arnaud Boissières, skipper of La Mie Câline, reported from his boat: "For more than 24 hours, we have been dealing with particularly violent weather phenomena which have followed one after the other. I did everything possible to preserve the boat but this morning I made the decision to give up so as not to further damage my equipment."
Several damages that had occurred in recent hours (damaged windsail, furling problem on the J2) forced him to choose safety, leading to his retirement.
Boissières plans to head back to Les Sables d'Olonne, no longer in race mode. "[I will] learn the lessons of these last days at sea to come back stronger, still ambitious and with as much passion."
This second running of the Vendee Arctique was shortened to finish at the Iceland gate to give the skippers the possibility of taking cover from the worsening depression to the east of Iceland. Charlie Dalin aboard Apivia won this shortened edition of the Vendee Arctique when he finished at 00:23hrs UTC (02:23hrs HF) Friday, June 17.
The Vendee Arctique is one of five qualifiers for the 2024 Vendee Globe. Skippers must complete two of the five to qualify for the next solo around the world race. Regardless of the shortened course, the seven remaining skippers must finish by Sunday at 7am for this race to serve as their first qualifier.
Swiss sailor Alan Roura aboard Hublot is the top international finisher in seventh and Pip Hare of Great Britain successfully completed her first qualification for the 2024 Vendee Globe.
For Boissières, a veteran of four Vendee Globe races, this retirement was a difficult decision. It nevertheless constitutes the best decision, in view of the conditions encountered and the damage that has occurred on board. The five days spent on the Vendée Arctique were particularly trying, with demanding navigation, a real struggle to steer the boat, first in very light winds which trapped Arnaud in the calm, then to resist against the elements. A real preparation for the next challenges that await La Mie Câline and its skipper. Many lessons will be learned, once back in Les Sables d'Olonne, to plan for the rest of the season, and in particular at the start of the Route du Rhum on November 6, 2022.
(source: Arnaud Boissières / La Mie Câline)