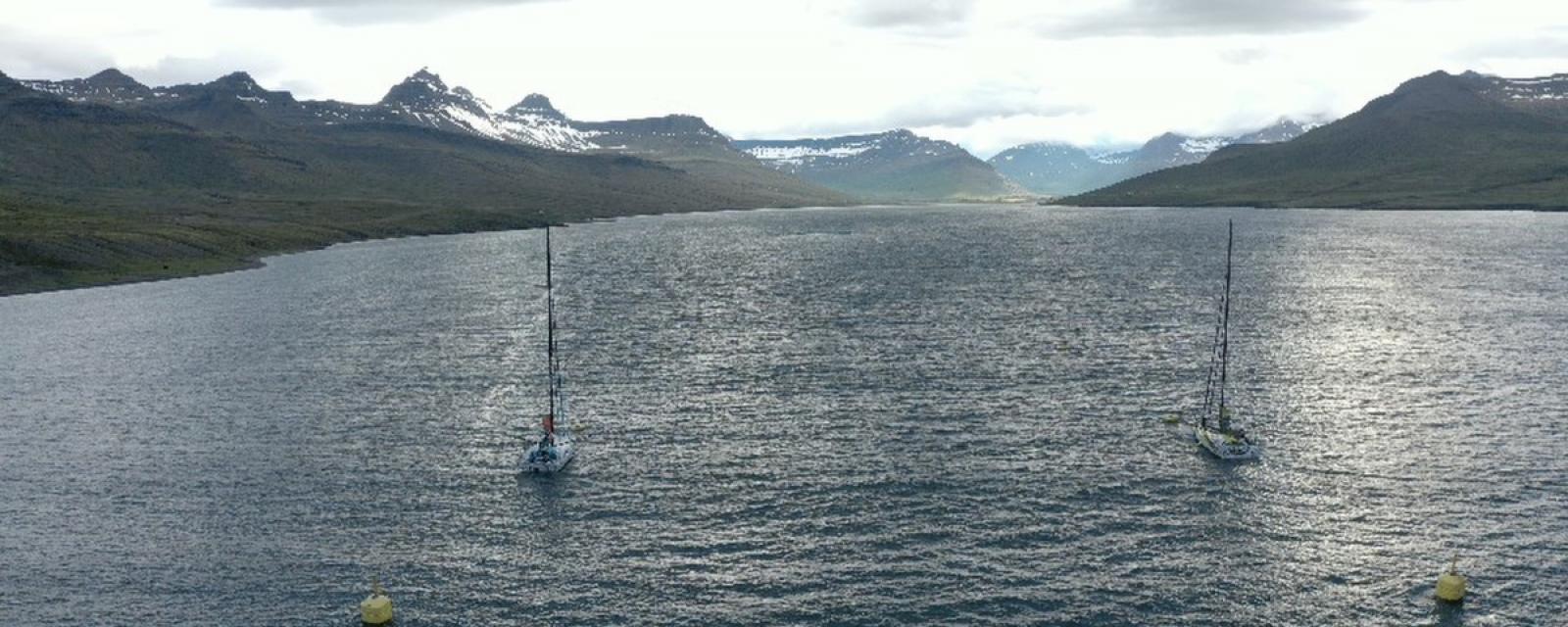 Finally beaten by the conditions over the course of Friday and Saturday were Isabelle Joschke, Arnaud Boissières and Manu Cousin who abandoned. Both Boissières – a four-times Vendée Globe finisher – and Joschke were less than 50 miles from the finish line which was directly upwind into more than 40 knots of icy, northerly winds.
A mainsail tear above the third reef meant the tough Franco German skipper Joschke had been sailing under storm jib only after suffering the damage more than 24 hours earlier.
The decision to officially declare the waypoint gate the finish was taken last night. Race director Francis Le Goff received a barrage of positive messages overnight from the exhausted solo racers.
"It was the decision to make," asserted Jérémie Beyou (Charal, 2nd). "Even before it was taken, I had informed my team that I was going to take shelter because it was just too hard." Sébastien Marsset messaged to Le Goff, "There weren't a lot [of] other solutions." "No one can realize the difficulty of the conditions we had to face," emphasized Éric Bellion (COMME UN SEUL HOMME Powered by ALTAVIA).
Speaking to Race HQ in Les Sables d'Olonne at lunch time, 2016-17 Vendée Globe finisher Bellion – as tough a cookie as they come – put into words the seemingly interminable "north face" climb. "Often the boat was nearly at 90 degrees. It was extremely, extremely hard sailing," he recalled. "I thought about giving up several times. But I found the resources inside me to continue."
Bellion recounted how he came close to a collision with Sébastien Marsset (Cap Agir Ensemble) in 40 knots of wind. The VHF crackled on both sides and they struggled to hear each other. Marsset pulled up his helm and missed his friend and rival but at the same time Marsset's rudder kicked up and he lost control. "It was as if you were on a bike hurtling down an embankment trying to avoid a car," grinned a visibly relieved Sébastien Marsset, almost euphoric after his finish.
"It was dangerous for the boat, for sure," reported the young Swiss skipper Alan Roura, whose seventh place on his new IMOCA Hublot (ex Hugo Boss) is his best major IMOCA result yet. "I managed to set off all the emergency alarms at least once," recalled Bellion (video interview here https://youtu.be/BUkDnKQF8Fc).
Provisional race winner* Charlie Dalin (APIVIA) – whose second back- to-back IMOCA race triumph this is – effectively received the news he had won when Race Direction officially signaled the course was shortened at the Iceland gate. At that time, Dalin was tethered to a substantial mooring buoy, sheltering  in a nearby fjord.
"It is the first time that I have learned I have won a race when I am on a mooring," said a relieved Dalin, reporting in a video on his team's Twitter page, "so a little first for me, and so I am going to celebrate this victory on APIVIA with a little Savoyard Fondue with a view of the snowy mountains and so there you have it, not bad. I am thinking of you all in the heatwave and say see you soon in Les Sables d'Olonne."
Dalin explained his key moments in unrolling his winning strategy: "The two light wind transitions were the key. I went for the very western option which made me take more ground  than most of the boats but for me it was a very necessary investment to get wind back earlier than the others. We attacked the high pressure ridge with three or four boats and I positioned myself west of them because that's where the new wind was coming from so every time the wind would shift I would gybe to make some progress west as much as I could to get the new breeze first.
Off Iceland in a front we had light breeze as well which was getting bigger and wider getting closer to Iceland and for me to cross this light wind area was west again. So that's why I didn't get into gybing in the southwesterly after the ridge, I just kept sailing high because I wanted to stay west for the stable southwesterly breeze that was coming after that. That was my strategy for the race really."
Dalin topped the podium finishing at 02h 20min 26s on Friday. Second was Jérémie Beyou (Charal), 3h 43mins 42s behind and third was Thomas Ruyant  (LinkedOut), 7h 13min 20s behind the winner.
Taking fourth place, and first non-foiling boat was IMOCA rookie Benjamin Ferré (Monnoyeur - Duo For a Job) with a race time of 5d 07h 09min 00s, 21h 48min 34s behind the winner, a remarkable performance for what is his second IMOCA race. Ferre is a quick study, advancing his skills quickly in the IMOCA as he had five years ago in the Mini class when it only took him two years in the fleet to reach a podium finish in the Mini Transat. Monnoyeur - Duo For A Job is the former Macif, former SMA, former Banque Populaire. It is the first IMOCA with straight daggerboards in the ranking.
Alan Roura finishes as top international skipper in seventh, 1d 00h 26min behind winner Dalin. Italian Giancarlo Pedote (Prysmian Group) finished 12th, 3h 7min 51s ahead of Briton Pip Hare. The Medallia skipper was delighted with her result, achieving many of her pre-race targets with her new IMOCA which she is still learning.
After a bitterly disappointing Bermudes 1000 race last month, Hare's objectives heading into the Vendee Arctique were precise. She knew where she needed to be in the fleet to prove that she has made progress towards her performance goals. Riding a steep learning curve with her new, foiling IMOCA, Hare has used the race to take some big steps in sailing technique and in personal management.
"As long as I get through the next 15 minutes, looks like I'm coming in in thirteenth, which I am so happy about," said a beaming Hare just three miles from the finish, visibly getting bounced around below.
Shaking her head, she was overwhelmed with her result, a milestone in her journey to her second Vendee Globe that validates her progress as a competitor. "I really feel like I'm starting to get somewhere now," she said. "I said I wanted to be in touch with Giancarlo, with Isabelle, and I'm ahead of some big foil boats. The good guys with similar boats to me are still consistently ahead of me but at times I was challenging them so just as the race is ending here, we are where we are."
Kiwi Conrad Colman finished in 18th at 17:33 UTC +2 hours.*

*Normally after finishing an IMOCA race the boat would be scrutinized. The final results must be ratified.