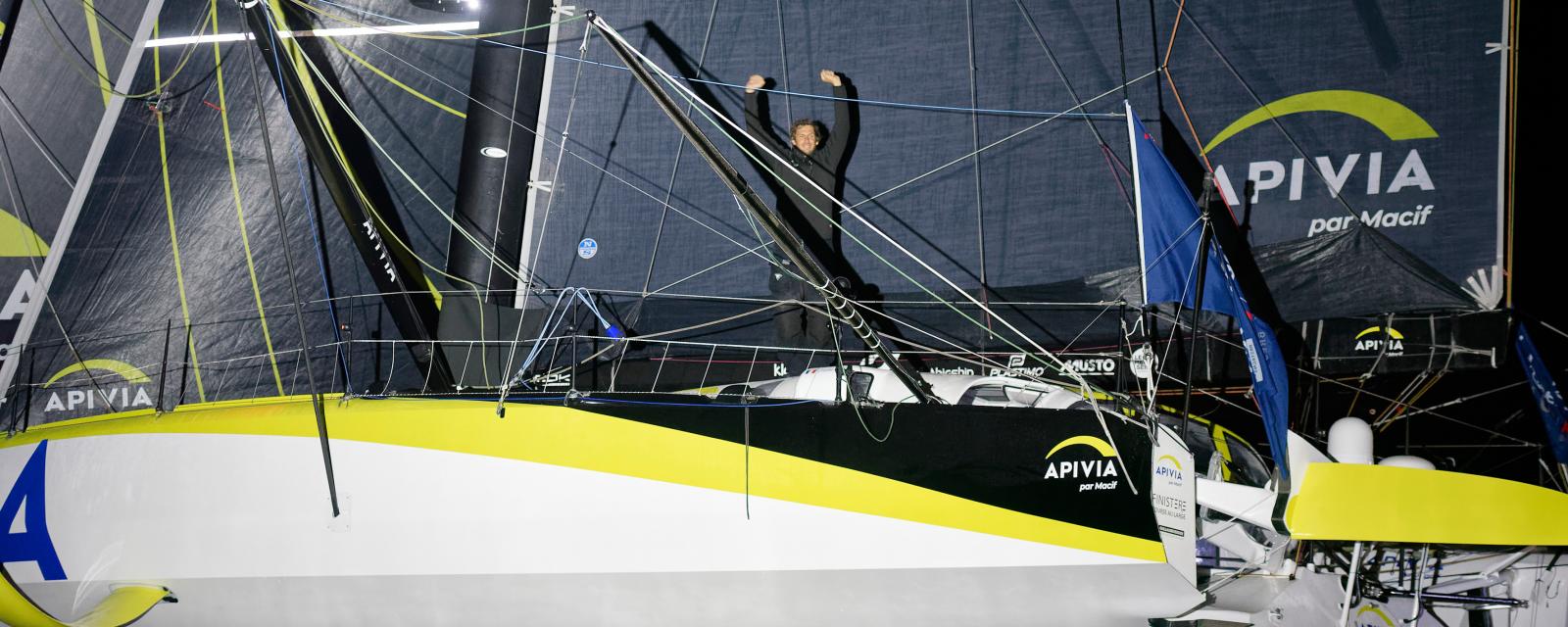 Charlie Dalin and his yellow and black monohull APIVIA dominated all the way around the triangle course from Brest taking the fleet towards the Fastnet before sliding south and a waypoint to the northwest. from Cape Finisterre, before returning to Brest. Nicolas Lunven (Banque Populaire) and Thomas Ruyant (LinkedOut) were on top very early on in the very first legs, Dalin always maintained his leadership from start to finish of the 1,200 nautical miles challenge set by this third edition of the Guyader Bermudes 1000 Race. He did have a little help from the from the weather – a windless ridge which he slipped through blocked the route of the pursuers on the climb back towards Brest, allowing him to increase his lead significantly.

"From the start, it went well for me, " smiles the sailor who grew up in Le Havre. " I managed to take the lead right away. I attacked hard and pressed the boat to go as fast as possible. This ridge helped me a lot since it closed the door behind me. I felt like I was in a state of grace the whole race. I have this reliable and efficient boat that I now really know inside out. In terms of the weather, I did quite well and I always had a bit of success when I needed it. The year couldn't have started better."
Unfortunately Jérémie Beyou (Charal) was high held back by the high pressure ridge and took 2nd place 15 hours and 15 minutes after the winner. Third place went to Louis Burton (Bureau Vallée), who was able to hold off Nicolas Lunven, replacing Clarisse Crémer aboard Banque Populaire (Damien Seguin's former Groupe Apicil), and Isabelle Joschke (MACSF), took a remarkable 5th in this first solo gallop of the season.
Parallel issues
In addition to the sporting challenges linked to the race, there were also qualification challenges in this third edition of the Bermudes 1000 Race. The skippers had the opportunity to qualify for the long and adventurous Vendée Arctic – Les Sables d'Olonne the 3,500 miles June's epic race into the Arctic Circle.
21 of the 24 competitors in the Arctic Vendée – Les Sables d'Olonne have already won their qualification by completing the Bermudes 1000 Race.
In addition, the 21 skippers who have completed the Bermudes 1000 Race have accumulated miles for selection in the Vendée Globe 2024. To be among the 40 starters, those who have run the most miles in the races of the IMOCA Globe Series Championship will have the priority.