This new version of the Vendée Arctique - Les Sables d'Olonne 2022 is perfectly suited to its role as a preparatory race.  
As the first qualifying stage for the 2024 Vendée Globe, the Vendée Arctique should enable the skippers in the IMOCA Class to test themselves in the open ocean both from a sporting and technical point of view, as well as to test their boats. 
The route has therefore been augmented to make it a demanding event, with difficult weather conditions, especially to reach the Arctic Circle. Going from south to north is a particular technical exercise, requiring numerous manoeuvres and sail changes, particularly around Fastnet, or when rounding Iceland, in an unusual and difficult area the sailors.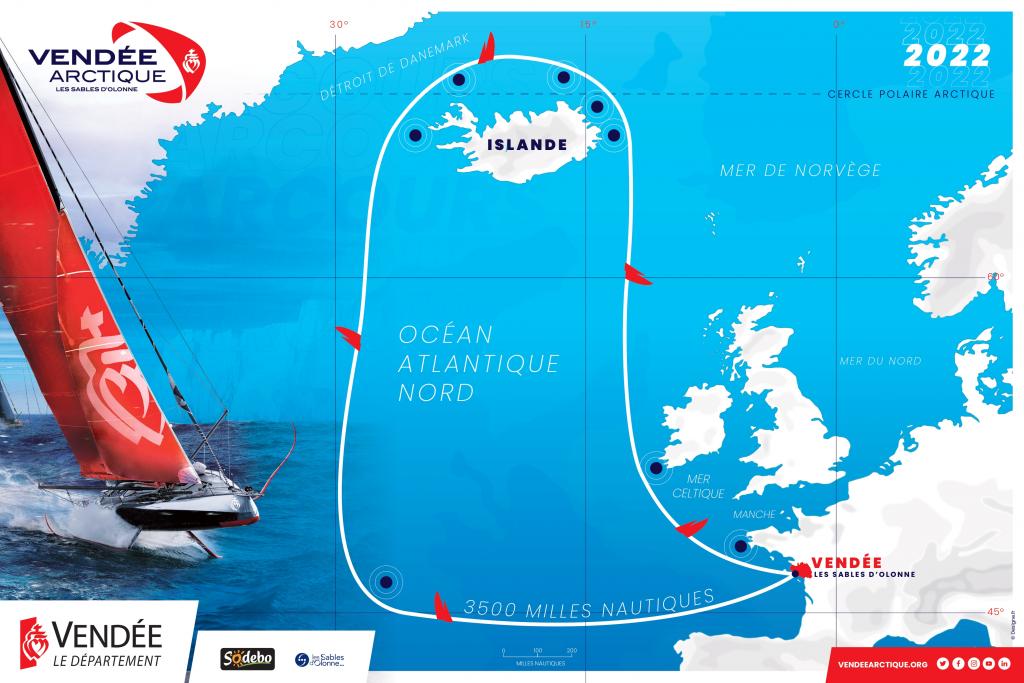 An innovative and demanding course
The route has been extended compared to the previous edition. It is now 3,500 miles long.  
The skippers will set off single-handed from the Vendée Globe pontoon, up the legendary channel, to start off Les Sables d'Olonne. They will sail north, round Iceland, before returning to Port Olona and completing this innovative and demanding course. 
For the first time, the Vendée Globe skippers will attempt to pass to the north of Iceland to cross the Arctic Circle. 
The skippers will also have to be vigilant around Iceland. This volcanic island, with peaks rising to more than 2100 metres, will force the competitors to negotiate zones that sometimes generate wind accelerations but also calm zones due to the high relief. The sailors will therefore have to expect a complex race, both physically and tactically. 
The course may change right up until the last moment, depending on the weather conditions forecast before the start, particularly the low pressure systems that circulate in the spring between Newfoundland, the west of Ireland and Iceland.  
Icebergs and patches of pack ice coming from Greenland and Svalbard (archipelago of Norway) will be monitored particularly carefully to avoid them crossing the IMOCA course.