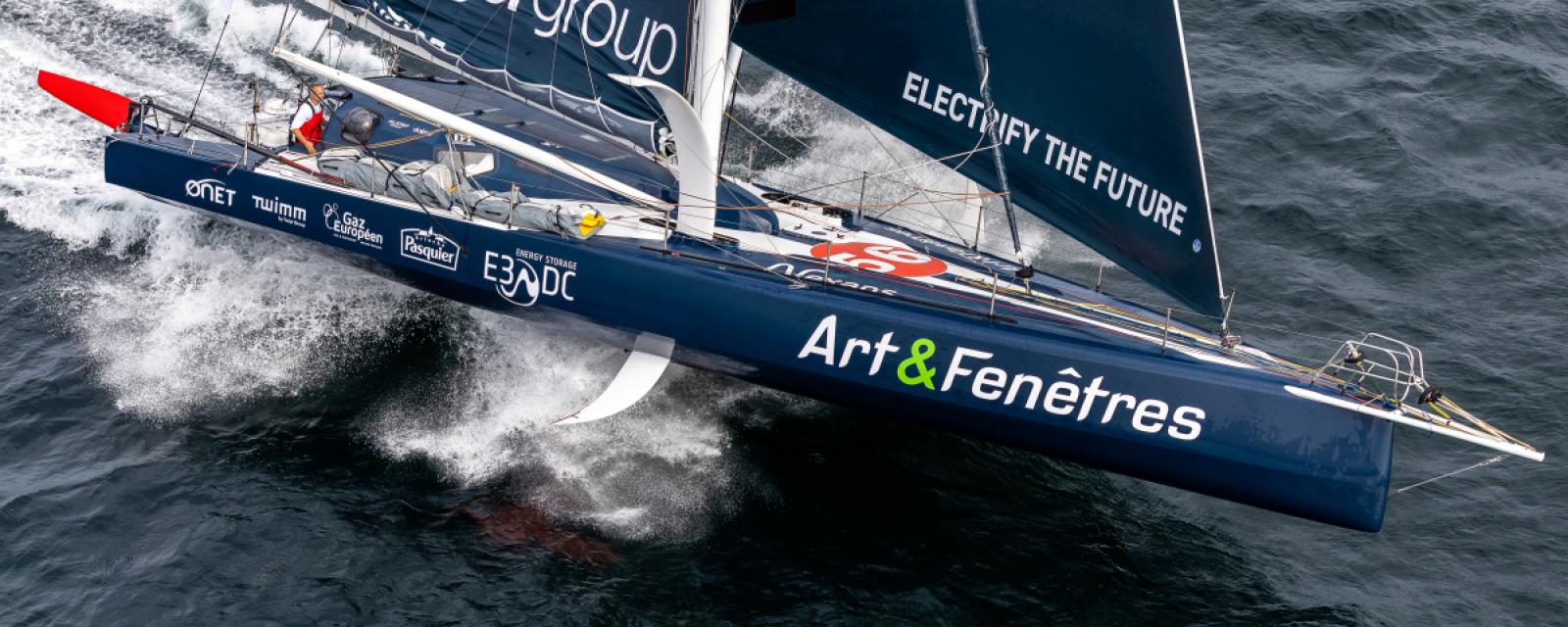 "When you see a big red smudge stretching all over the screen, you know it won't be easy to manage." Isabelle Joschke (MACSF) summarizes the current concern for skippers. This "big red spot" is the depression that formed in the southwest of the fleet and which gradually widens towards the northeast of Iceland.
The effects will vary through the fleet depending on the positioning of the skipper. For the leading sailors it would have forced them to face particularly difficult conditions. "The depression is shifting towards the North-East of Iceland," explains Christian Dumard, the weather consultant for the race. " The wind will then hit their race area during the day on Saturday".
Thus, the skippers who lead the rankings would have had to face "very strong winds on Friday and Saturday morning on the direct route with very strong westerly winds", continues Dumard "With a crosswind, the sea hits the boats, which can lead to significant risks".
"There is also a geographical aspect to the problem," continues Yoann Richomme, consultant for the Vendée-Arctique - Les Sables d'Olonne. "The race area is quite isolated and this makes any possibility of rescue complicated in the event of substantial damage. It's not as if they have to face gusts of 50 knots off Brittany!"  says Richomme whose own new IMOCA will be launched next year,
"Legally it is the responsibility of the race director and sometimes it is better to be a little too 'safe' than not safe enough."
This is also the point of view of Giancarlo Pedote (Prysmian Group) who agrees with the decision. "There are big seas which could endanger the skippers." he explains. "All the choices related to safety are always good choices".
At the heart of depression
At the rear of the fleet, depression is already a reality. In the morning, Romain Attanasio was making difficult progress in 35-40kts and the alerts were sounding aboard Fortinet-Best Western. Fabrice Amedeo (Nexans-Arts & Fenêtre) mentioned 45 knots of established wind and gusts to 50 knots.
"I currently have 53 knots and I had peaks at 60 knots", continued Arnaud Boissières (La Mie Câline). "It's really not easy," added Alan Roura (Hublot).
"The seas could be 3 to 4 meters in the troughs and the wind could rise to 50 knots during the day depending on their progress", assures Christian Dumard.
What is reassuring is the quality of the boats. Yoann Richomme attests to this: "these are solid boats that have been tested. At the start they would not have kept up such a pace if they were not perfectly reliable".
Nevertheless, conditions should improve at the end of the day on Saturday.
"The depression will fill at the end of the night and move off", concludes Christian Dumard.