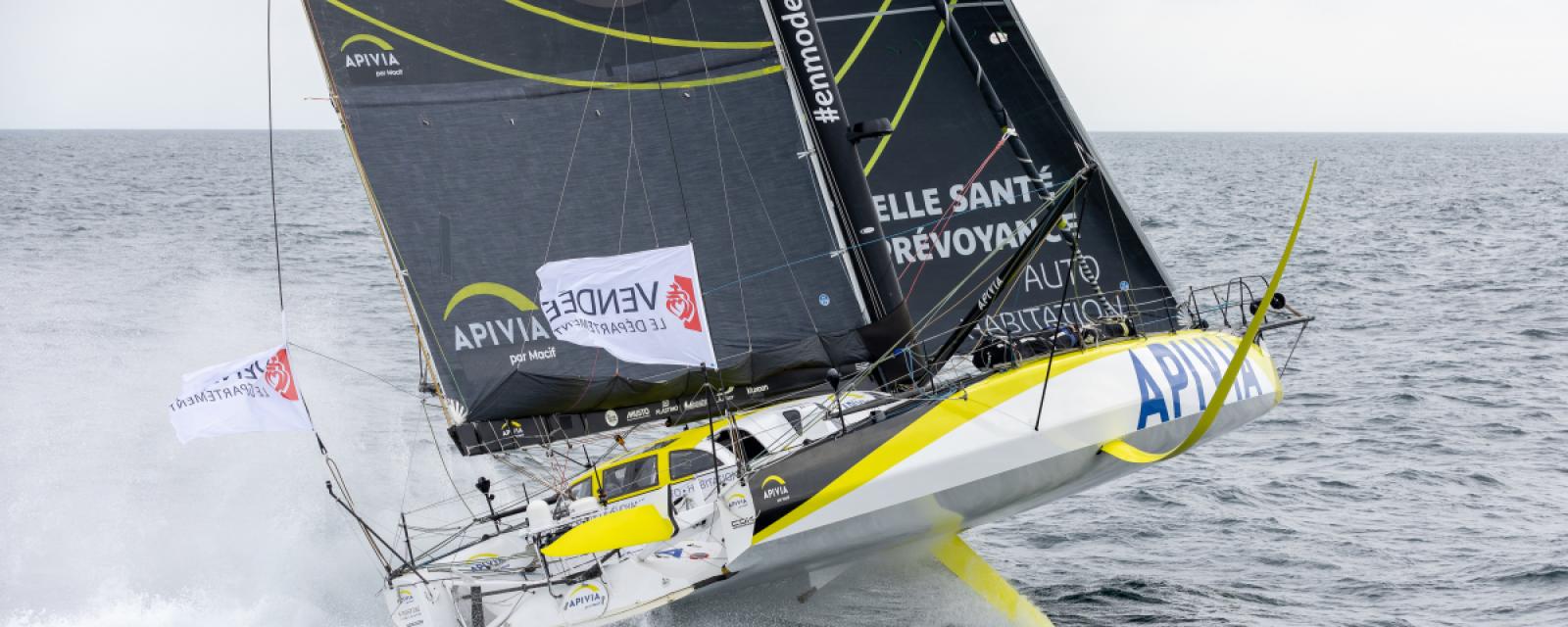 The party is going to be beautiful Thursday, June 23 in Les Sables-d'Olonne. More than half of the fleet of the 2nd edition of the Vendée Arctique will indeed arrive at the end of the delivery trip started after crossing the finish line, positioned in the east of Iceland.
The complete podium
For the sailors making up the podium, the ascent of the channel will be done in order of classification. The winner, Charlie Dalin (APIVIA) will thus be the first to enter, at 11 a.m. This will be followed by Jérémie Beyou (Charal), at 11:10 a.m., and Thomas Ruyant (LinkedOut), at 11:20 a.m. For the following, the entry into the channel will be done according to the instructions of the Race Management. The other skippers expected tomorrow are Louis Burton (Bureau Vallée), Alan Roura (Hublot), Benjamin Dutreux (Guyot Environnement – Water Family), Giancarlo Pedote (Prysmian Group), Damien Seguin (Groupe APICIL), Louis Duc (Fives - Lantana Environnement ), Benjamin Ferré (Monnoyeur – Duo For A Job), Sébastien Marsset (Cap Agir Ensemble #SponsorsBienvenus), Romain Attanasio (Fortinet-Best Western) and perhaps Arnaud Boissières (La Mie Câline), Antoine Cornic (EBAC Literie), Éric Bellion (CommeUnSeulHomme powered by Altavia) if they arrive in time to enter the channel before 4:30 p.m. Because of their significant draft (4.50 metres), the IMOCAs cannot pass at any time of the tide.
The Vendée Globe pontoon open to the general public
The local public is expected on the streets lining the channel to celebrate as it is the skippers' return from their eventful journey to Iceland. They will be happy to see other humans! The Vendée Globe pontoon will be open to spectators who will be able to enjoy this beautiful atmosphere as closely as possible. Further returns are expected by Friday evening (see below) and the Awards Ceremony will be held on Sunday at 5 p.m.
Complete program of ETA (estimated arrival times):

Thursday day (between 11 a.m. and 4:30 p.m.)
Charlie Dalin (APIVIA, 1st)
Jérémie Beyou (Charal, 2nd)
Thomas Ruyant (LinkedOut, 3rd)
Benjamin Ferré (Monnoyeur – Duo For A Job, 4th)
Louis Burton (Bureau Vallée, 5th)
Alan Roura (Hublot, 7th)
Louis Duc (Fives - Lantana Environnement, 8th)
Damien Seguin (Groupe Apicil, 9th)
Benjamin Dutreux (Guyot Environnement – Water Family, 11th)
Giancarlo Pedote (Prysmian Group, 12th)
Romain Attanasio (Fortinet-Best Western, 17th)
Sébastien Marsset (Cap Agir Ensemble #SponsorsBienvenus, 15th)
Arnaud Boissières (La Mie Câline, abandon)
Antoine Cornic (EBAC Literie, 16th)
Éric Bellion (CommeUnSeulHomme powered by Altavia, 14th) 
Night from Thursday to Friday (between 11 p.m. and 5 a.m.)
Guirec Soudée (Freelance.com, 6th)
Conrad Colman (Imagine, 18th)
Fabrice Amedeo (Nexans-Art & Fenêtres, 19th)