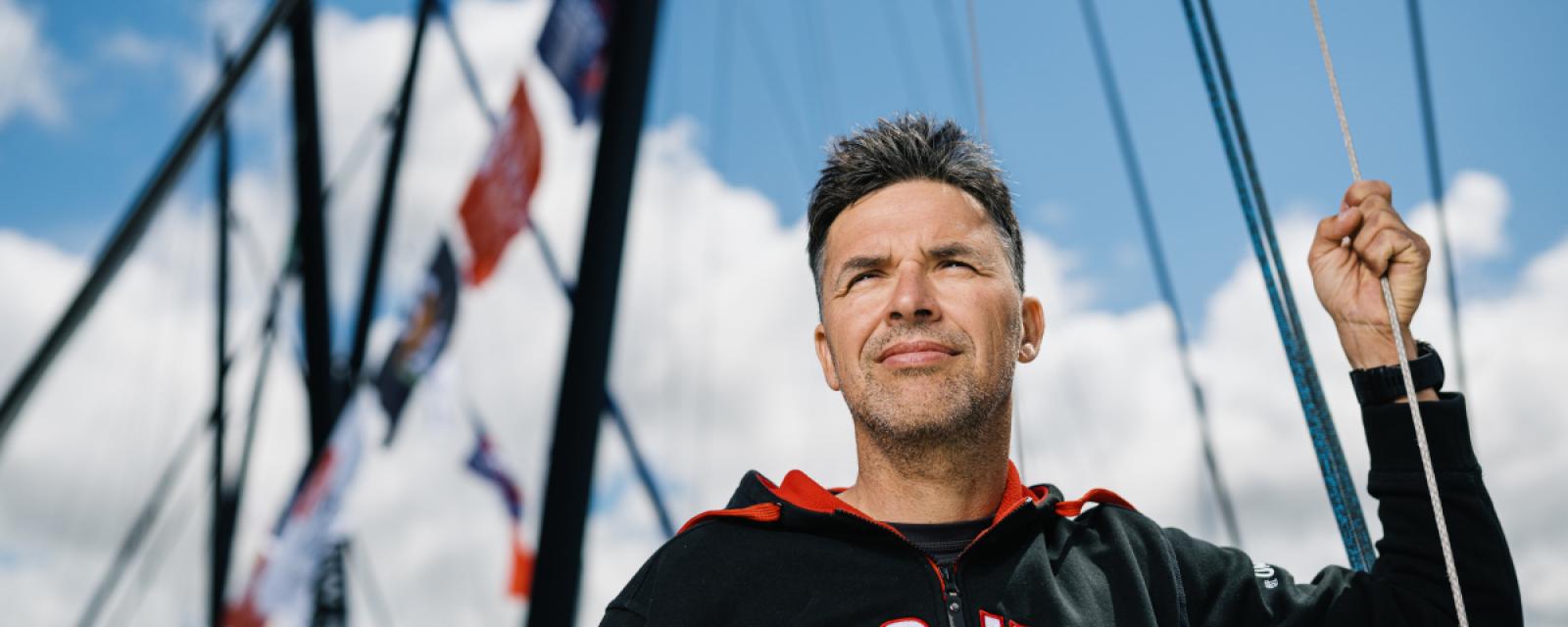 Having equipped himself with a very reliable IMOCA in the Owen Clarke design which started life as Dee Caffari's Aviva and most recently completed the Vendée Globe as Ari Huusela's Stark IMOCA, the first time solo racer is sticking to the fundamental philosophy of taking everything step by step and keeping hopes and expectations firmly in check. Just as he prefers to simplify his name to Szabi, he breaks down all his tasks and target to simple steps and just gets on with it.
His Vendée Globe dream is largely inspired by Hungarian pioneer Nandor Fa, three times a Vendée Globe starter who was the first non-French skipper to complete the race in 1992-93 and who finished eighth in 2016-17 on Spirit of Hungary. Szabi is a former Olympic dinghy campaigner who moved into high level match racing after landing a job being responsible for the rig and rigging with South Africa's legendary Team Shosholoza in the 32nd America's Cup. Though he is totally new to the IMOCA he already has one racing circumnavigation under his belt on a Tripp 55 in 1996-1997 on the 'with stops' Hong Kong Challenge and has multiple Transatlantic passages and races to his credit. More recently he has raced on a Marten 68 doing the Mediterranean circuit including the offshore classics like the Middle Sea Race and the Giraglia.
Whilst he had made his big decision to go all out for the Vendée Globe it was only this year, in January, that he found the funding to buy his boat. Plan A was to do last year's Transat Jacques Vabre. And so he finds himself a little behind where he wanted to be in terms of training miles on the ocean.
"The Vendée Globe has been a long held dream of mine but it seemed so big, so impossible." explains Szabi. " I got out of sailing for a while and I made other challenges to myself, like in triathlon. I just prepared myself and got to a high level completing the Iron Man in under nine hours and qualifying for Kona, the world championship. That was a big project I worked a lot and trained a lot. It was a big challenge and seemed impossible at the start. But at heart I am a sailor and it is time to take on the big challenge. The ultimate challenge is the Vendée Globe. I am 49 now and so I made the decision, 'let's get it done' So I have started and intend to get this finished. I am here, far from the goal. But in my head I have all the steps where I want to go."
He raced a crewed Transat with Fa who remains a source of advice and constant inspiration. They very much share the same philosophy of self reliance and the same remarkable Hungarian grit. Fa also had multiple sporting lives before sailing, moving from wrestling to canoeing to Olympic Finn sailing before going ocean racing. Szabi is justifiably proud of his Triathlon and Ironman career.
He is from a sailing family. His sister represented Hungary as 470 crew at the Athens Olympics. It was through her and her now husband Ian Ainslie that he ended up with a role with Team Shosholoza.
"My sister was doing the weather for Shosholoza and I went to visit her at an event. They were lacking a rigger and so I ended up in the rigging container pulling an all-nighter fixing stuff. They  asked me to stay. And so I became in charge of the rigging and I learned a lot. I carried on then with team to go match racing at a high level and that was a different kind of sailing, learning all the time." He recalls.
His first IMOCA race was, in effect, last month's Bermudes 1000 but his navigation software crashed on the first day and so he decided to withdraw and sail the 2000 nautical miles qualifier for this race instead, "I was too scared to think of going on with no instruments on my first IMOCA race. So we fixed it and I did my qualification in the Bay of Biscay. The qualification was OK but the Adrena (navigation software) crashed again. This time I was prepared for it and fixed it. But I guess these problems get easier as you have more experience."
So his main goal is to get his boat back across the finish line in Les Sables d'Olonne and take an important first step towards the 2024 Vendée Globe.
"I feel very excited." he smiles, "I can't really believe I am here. I feel like I have already achieved something being here but this is really just the start of the long road. This Vendée Arctic race now a big step ahead of me considering I only got this boat in January and it has been hard to do the boat preparation and be ready, it is a very short time. But I am not putting myself under any kind of pressure in terms of finishing in a position in the fleet. This is just about finishing this race. The qualification process for the Vendée Globe is now very hard. And I have had no time to train and prepare. Before now I really just took the boat apart and made the most important and urgent servicing and put it back together trying to learn as much as possible and sailing as much as possible. We have achieved something to be here on time."
He has enough budget for the moment but feels he needs to manage expectations and build a track record before chasing partners.
" When you see here you realise no amount of money is ever going to be 'enough'. You will always want more. But right now I have enough and it is up to me to start delivering some results. I have not finished a race and so I have to do that and start telling the story and building the team. But right now it is step by step."