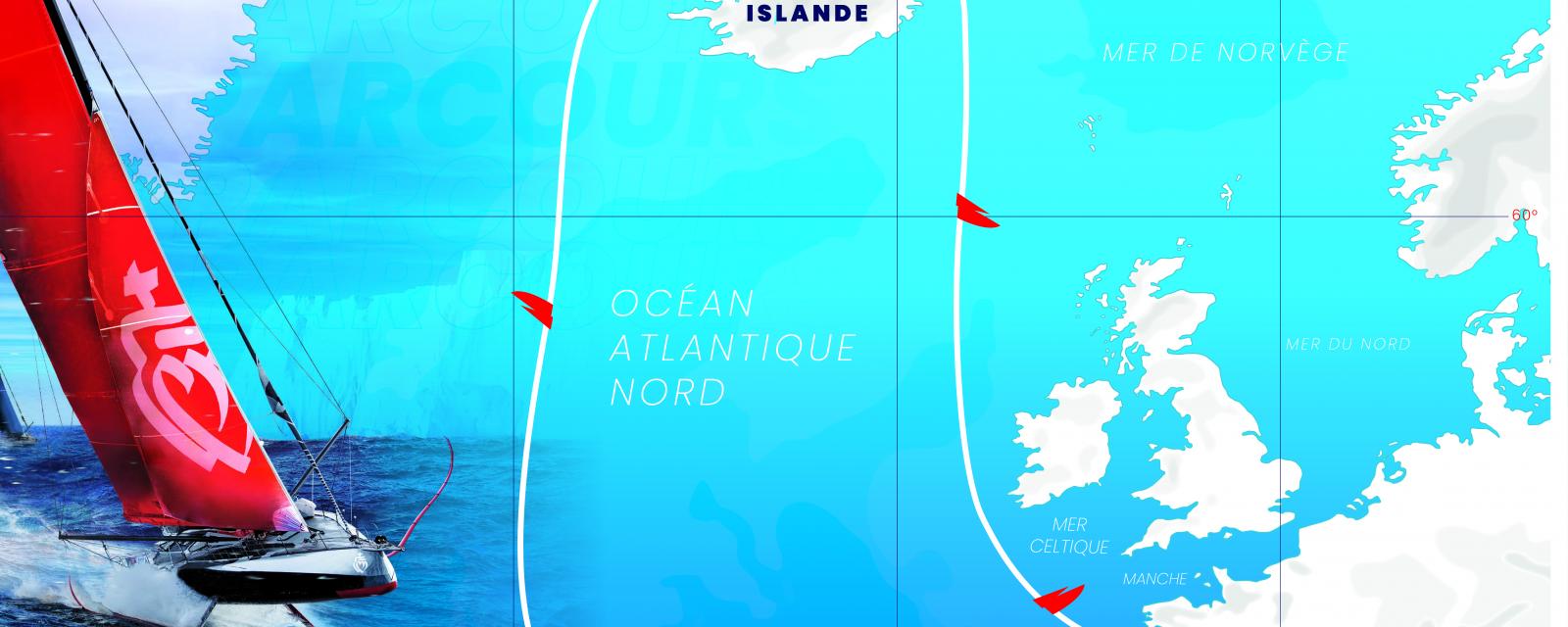 Dumard explained:
" Around the time of the start there is a high pressure ridge prevailing with a little bit of a risk of thundery clouds in the European models. There will be a northerly wind 8 to 9  but maybe up tp 20 knots at the start depending how it develops, mostly from the NW. There is a big variability in the models for the weather tomorrow. The seas will be 1.0 to 1.4m for the. On the morning of the 13th the ridge develops and expands towards Ireland. We start Sunday in the ridge and into the first day in the Celtic Sea. Into the 14th a depression arrives with a front which is not very active and actually dissipates becoming less and less. Look out for the development of small secondary lows in the front. There were some yesterday but none on this morning's forecast but worth keeping an eye out for."
In terms of strategy and choices Christian Dumard then explains, " So in general the first main thing is where the skippers cross the ridge Sunday evening and into the 13th the wind will be light across the entrance to the Channel and then they break into the SW winds associated with the low and it will be quite quick in the good SW'ly winds. Then the question is where to gybe to get east around the corner of Iceland. On the north coast it is actually looking quite light and upwind."
They said:
Giancarlo Pedote (ITA) Prysmian Group: The weather for the first part is OK, that first ridge you cross on the first night and then we need to look at the wind from the SW that will be the new wind so getting to Iceland should be pretty fast with no danger. The problem such as it is will be in the north of Iceland because it is the first time. And we don't have so much information about ice and sea mammals so we need to take care. My strategy is always the same, go fast on the best side!
Pip Hare (GBR) Medallia: "Well it looks OK. The evolution after the 19th on the European model looks a little bit hairy there, it looks complicated and not particularly fast. It looks really tricky, quite a technical course and now being in weather briefing in which they talk about whales and icebergs is something different. We are all going to have to stay alert and keep thinking all the way around.
Isabelle Joschke (GER/FRA) MACSF: "After the start we're going to have a fairly strong wind which will take us away from the coast relatively quickly and so that is great. And then in the first 36 hours of racing we will have to cross an anticyclonic ridge, that is to say an area without much wind. That will probably be in the second night it will not be an easy time, we will hardly be able to sleep. After that we will find the wind more downwind to head towards Iceland.
Guirec Soudee (FRA) Freelance.com: " The weather shouldn't be too bad. We must not waste time getting north otherwise we might find ourselves on a tough upwind. But I'm really looking forward to being on the starting line tomorrow. This is a really a great race, it's really a great chance to go around Iceland. We will have to look after the boats because the course is long and it can be quite tough. We shouldn't see ice, even if there are still South-West winds that will push the ice a little offshore, but according to Christian (note Christian Dumard, weather consultant for the race) such as they are they should melt before getting close to Iceland. I'm so happy! I still have a hard time believing I am here!.